GLOBAL AFFAIRS
Greetings from the Office of Global Affairs
The Global Affairs office aims to develop our research programs and partnerships in international services and broaden our network in the field of healthcare. We recognize the need for collaborative initiatives and strategies and our staff and programs foster a comprehensive approach to integrative medicine through our Distinguished Lecture Series (DLS), workshops, training opportunities for students and doctors, and other annual professional events while inspiring a vibrant environment through partners in the United States, Mongolia, Russia, Kazakhstan, and the United Arab Emirates. We are a resource that supports cross-cultural training and oversees and operates various activities for healthcare practitioners interested in integrative medicine.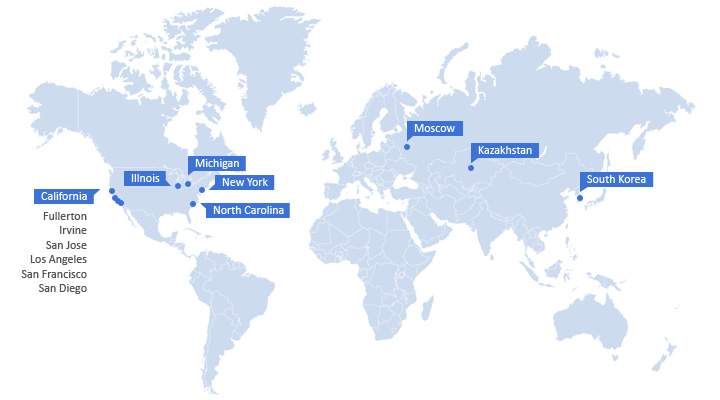 ABOUT US
OUR SERVICES
The Global Affairs office works in collaboration with the different divisions at Jaseng to introduce Korean Medicine to outside international organizations. We offer our Distinguished Lecture Series, Professional Workshops, and Student Internships.
INTRAMURAL PARTNERS
EXTRAMURAL PARTNERS








DISTINGUISHED LECTURE SERIES (DLS)
All talks are tentatively held on the last Sunday of each month from 9 AM to 1 PM.
The Distinguished Lecture Series (DLS) at the Jaseng Foundation brings world-class experts in the field of integrative medicine from all industries across the world to share their experiences, ideas, and knowledge to our hospital. Through professional workshops and talks, the DLS concentrates on a wide variety of accomplished speakers who also have a common interest in integrative medicine for our audience of physicians in Jaseng Center, Gangnam. Lecturers present for approximately one-hour on a topic of their choice that aligns with integrative medicine. We welcome those with research and clinical expertise on complementary and alternative medicine, musculoskeletal pain, spinal disorders and diseases, and neuroscience, as well as, other related topics. We look forward to your sharing your knowledge with our organization!
Workshops for Physicians
Workshops are led by the directors of the hospital and are practical opportunities for lecturers to engage with the physicians at the Jaseng Foundation.
Distinguished Lecture Series Speakers:
2019
Nov. 24th: Major Christine Marie Olanrewaju, D.O.
Chief, Physical Medicine and Rehabilitation
121st Combat Support Hospital, Brian Allgood Army Community Hospital
Topic: Electromyography and Nerve Conduction Studies
Pearls, Pitfalls, and When to Order One
2017
May: Young Oh, PhD Program Director
NIH National Heart, Lung, and Blood Institute Vascular Biology and Hypertension Branch
June: Rae Silver, PhD, Professor, The Silver Neurobiology Laboratory
Dept. of Psychology, Columbia University
Sept: Alka Gupta, MD Cofounder
Weill Cornell Medicine Integrative Health Program
Audio/Videos
Watch footage of prior speakers
TRAINING
We currently offer two educational opportunities for those interested in the field of integrative medicine
Internship and Volunteer Opportunities For Premed Students
The Jaseng Center for Integrative Medicine's internship program is currently searching for American premedical undergraduate students who are interested in integrative medicine and business operations as an Intern with the global affairs office. We've developed an opportunity that offers insight into healthcare, business development, and international affairs to promote the knowledge of Jaseng's innovative integrative medicine through leading health institutions around the world.





Link to Internship and Volunteer page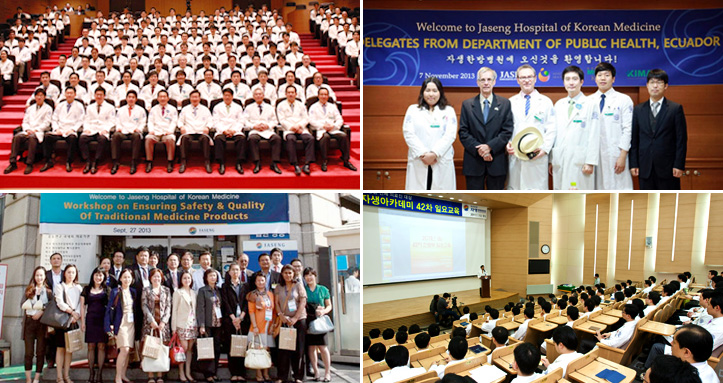 Training Program for Medical Professionals
Length of the program: 1 week(6 days)
Availability: Subject to change. Please contact us for further details.
Contents: Refer to the description below
Fee: 1000 US dollars
Included in the training program are:
- Training on Jaseng's non-invasive treatment methods
- Handouts, interpretation during training hours, lunch (served at the cafeteria), airport pick-up /drop-off
- Air fare and other accommodations are NOT included.
For inquiries, please contact Jaseng International Clinic (E-mail: jasengliaison@gmail.com)
Benefits
A certificate of course completion
Prioritized patient referral
Priority pass to any future Jaseng lectures held at the country of the participant's residence
Contents of the training program
Basic principles/rationale of Jaseng's non-invasive treatment methods
Basic principles of pharmacopuncture and herbal medicine
Introduction to clinical research conducted at Jaseng and the Joint and Spine Research Institute
An opportunity to experience the entire diagnosis/treatment process offered at Jaseng
Shadowing outpatient clinics / wards
Tour of the facilities including the dispensary


Videos
Michigan State's College of Osteopathic Medicine Visit to Jaseng
Advisory Board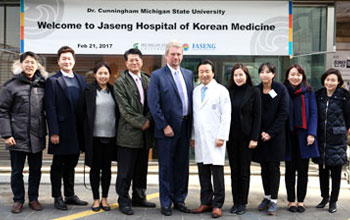 We're excited to partner along with other doctors, researchers, advocates, practitioners, and healthcare professionals who share an interest in integrative medicine. We foresee an increase in safe and effective practices—starting with the help of our Advisory Board.
Together it focuses on reviewing our newest content regarding research, workshops, and reference checks on other institutions who want to build partnerships with us.

We are currently recruiting members for our Advisory Board this year so if you are interested in joining, please email jasengliaison@gmail.com for more information.
Alka Gupta MD Cofounder, Weill Cornell Department of Integrative Medicine
William Cunningham DO MHA Director of Institute of International Health, Michigan State University College of Osteopathic Medicine
Rae Silver PhD Professor at Columbia University Psychology Department
Sang Kook Lee PhD Professor at Seoul National University Pharmacy Department




JASENG INTERNATIONAL SYMPOSIUM 2018
Present and Future of Non-Surgical Treatment for Spine and Joint
Objective:
Spine and joint disorders including lower back pain takes a large burden of expenses for both individuals and social economy.
Surgery used to be prevalent in the past but various non-surgical treatment including Korean medical treatment has been actively practiced recently.
Via an international symposium, discussions on the present and future of clinical and research status of non-surgical spinal and joint treatment in complementary and alternative medicine (CAM) is necessary.
Date: 2018.03.04. Sunday
Attendees: Medical staff and expert researchers in spine, joint, and musculoskeletal disorders.
Global Affairs News
NEWS RELEASES:
RECENT POSTS:
Feb 21st - Dr. Cunningham, Director of Institute of International Health, Michigan State University College of Osteopathic Medicine visit on Gangnam Jaseng Hospital
May 3rd - Jaseng Medical Foundation and the American Osteopathic Association will sign a Memorandum of Understanding to foster a partnership between the two institutions
April 3rd - Dr. Cipolla, Assistant Professor, Michigan State University College of Osteopathic Medicine visit on Gangnam Jaseng Hospital
June 26th - Dr. Rae Silver, a Columbia University faculty member, visits Gangnam Jaseng Hospital to consult with Jaseng regarding their plans for writing a review article and discuss the possibility of a Jaseng Hospital and Columbia University collaboration
June 30th - Medical and Undergraduate students from Michigan State University visit Gangnam Jaseng Hospital to observe Korean medical treatments for spinal disorders, including MSAT and Shinbaro Pharmacopuncture
Contact Us
Global Affairs Office
5 Eonju-ro 170-gil, Gangnam-gu, Seoul, Korea (underground first floor)
jasengliaison@gmail.com
T 82 2 3218 2459
F 82 2 514 9322